Stairlift selection is a daunting process. Unfortunately there is so much misinformation posted on the internet. as the popularity of stairlifts as a mobility and access device increases.
Selection of an Outdoor stairlift is now even harder as there are some awful, low specification products available which are superbly marketed to be attractive to the unwary buyer.
So what should you look for in an outdoor stairlift? Well there are five main areas that need careful consideration.
The guide rail or track
The drive unit or carriage design features
The seat assembly and cover
The remote control
The expertise of the installer and after sales support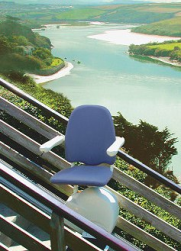 The Guide Rail:
What ever lift you buy make sure it has a positive drive method such as rack and pinion. Definitely avoid any outdated cable hauled lifts as they are potentially far less safe and problematic in operation long term.
Stairlifts are in the simplest form a motorized seat that travels along a guide rail.
The guide rail is either made of aluminum or steel but the best modern stair lifts opt to use hollow extruded aluminum as the track is completely exposed to the elements and is less prone to corrosion.
A significant amount of the outdoor stair lift cost is the rail system and some manufacturers have chosen to make the rail as thin walled and light as possible to purely reduce costs at the detriment to rigidity.
Ask for an anodized rail finish (very hard aluminum chemical surface treatment) and full size, thick section rigid rail.
The Carriage:
This is the heart of the stairlift and drives the seat up and down the stairs.
The moving parts of the carriage are covered by a molded shroud and so the chassis construction materials can be different to that of the rail.
The carriage should have a folded steel structure for strength and durability as huge forces are exerted on these parts in the process of lifting you up and down the stairs . Steer clear of aluminum die castings used for the chassis structure by some manufacturers. They are definitely lightweight and cheap to make but are prone to severe cracking and breaking under the inevitable shock and cyclic loadings of passengers getting on and off the stairlift.
Carriages are guided by rollers running on the rail to make them travel straight and maintain accurate meshing of the drive gear into the gear rack under all conditions. The rollers should have sealed ball bearing bearings to ensure that they roll smoothly over the life of the stair lift. A very good indication of a cheaply made stairlift is if it has plastic rollers on rough turned shafts with no proper bearings. Quality lifts have up to 12 rollers whereas the budget lifts may have as few as eight.
The Seat Assembly and Cover:
An indoor lift does not magically become a true outdoor stairlift by selling it with a plastic bag to cover it up and seal out the elements but thats what some manufacturers are offering.
The seat covers primary purpose should be to keep the seat clean and dry for when you wish to use the lift. Covers need to fit snugly be waterproof but still be easy to remove and cover up after the lift is used.
Ask "Will the outdoor stairlift operate with the cover in place when using the remote control?".
Cheap stairlifts using infra red controls often have their sensors obscured by their covers rendering them totally inoperative.
The Remote Control:
When multiple users are expected to use the outdoor stairlift a remote control is a necessity to call the stairlift to you if the seat is located where you are not.
A little like a TV remote control some stairlift manufacturers remote controls operate using infra-red.
Infra-red is a "line of sight" control type which means the sensor on the carriage under the seat will in most cases need to be in direct view of the remote control.
Other major limitations of infra-red control is that other sources of infra-red such as bright direct sunlight (often present outdoors here in Florida), or some low energy compact florescent light bulbs will disrupt or interfere with the signal causing the stairlift to stop and start repeatedly or the remote control will not work at all.
A far better outdoor stairlift remote control solution is to have radio frequency remote controls that work perfectly through covers, bright sunlight and low energy light bulb operation just like the car key fobs that lock and unlock your car doors.
Ask "Does your outdoor stairlift remote control use cheap infra-red or a reliable radio frequency remote control?".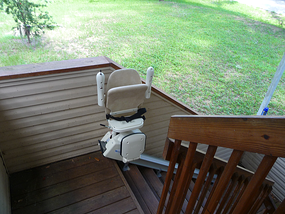 Installation and After Sales Service:
Stairlifts and particularly true outdoor stair lifts are complex devices used to move people, friends and family up and down your staircase.
Many stairlifts are being offered for DIY installation to save a few dollars with disapointing and even disastrous results.
Stairlifts need to be professionally installed by experienced and trained technicians for everyones safety and the stairlift reliability PERIOD!
Expect choice and opinionated service. Independent stairlift dealers have more stairlifts brands to offer and will be more inclined to provide you with the solution that suits your exact needs.
Outdoor stairlift warranties should be the same as indoor electric stairlifts. Expect a minimum of 2 years on parts and 1 year on labor. Most manufacturers offer a life time on the stairlift motor gearbox but don't be fooled into thinking this is a full coverage "life time warranty".
Ask "What exactly does your "life time warranty cover?".
Prompt sales support is nice to receive but fast, competent after sales service is essential. Outdoor stairlifts due to their exposure to the elements need to be inspected for safety and serviced more frequently than indoor stairlifts. At minimum your outdoor stairlift should be inspected annually.
Conclusion:
Do your research become knowledgeable and check the BBB, google and Angie's list for "stairlift complaints".
It is OK to ask for references from customers both recent and from a few years ago.
A refusal to provide references may be a very clear sign to choose a more established and reputable company to deal with.
Good luck with your research and I hope you find the perfect outdoor stairlift for your specific needs. If you would like further advice or information feel free to contact
Florida Stairlifts Inc.
for
FREE
independent expert advice.
1 (888)605-0174