Stairlifts are now sophisticated mobility devices designed to safely, reliably and smoothly move a person from floor to floor.A large part of the stair lift safety is assured by correct and proper installation onto the staircase.
Having often been called to rectify sub-standard stairlift installs in Florida I am always surprised how many serious errors are made by well meaning and mechanically inclined people leaving the stairlift user at risk of serious injury or worse.
Call us at 1 (888)605 0174
The lifts we see have a wide array of problems. They may have safety features disabled or missing, need adjustment to suit the staircase, block fire exits, need the track cutting correctly to remove tripping hazards, just simply don't function or are broken down shortly after being installed. Stair lift repairs and re-installation up to the manufacturers specifications can take longer and cost more than a typical professional original installation.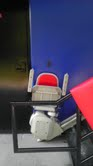 The chairlift pictured on the right is a classic example of a self installation. The chairlift was purchased online for self installation and installed three months ago at an office building in Tampa Florida by a handyman.
I was called to resolve the breakdown of the chair lift after six attempts of calling the original dealer and the manufacturer based in Orlando Florida. Once the sale had been done and the purchase payment was processed time slowed down and help was sporadic at best. Even though the lift was installed with the aid of an installation manual numerous serious hazards resulted.
The stairlift blocked the main fire exit to the office building ("but only when it was at the bottom" where it sat for weeks), the seat was tilted uphill, the top carriage safety edge was non functioning, one of the arm direction controls was damaged allowing the lift to run without constant user pressure, the rear seat fixings were partially missing and the rest loose. Fortunately this lift broke down just days after installation due to incorrect charger connection before it caused a serious accident. Expert repairs and a partial re-installation took three hours.
Florida Stairlifts staff are all factory trained on multiple manufacturers stairlift products (MediTek, Stannah, Summit Harmar, Sterling, Handicare and Acorn) and can quickly evaluate and repair unsafe or poor installations.
When you purchase a stairlift the installation should be done by a trained and trusted technician to ensure your safety and the longevity of your stair lift purchase.
Florida Stairlifts understands that a chairlift is not a luxury item but is a mobility necessity that must function daily for many years.
Choose your stair lift carefully to suit your exact needs with the help of a true stairlift expert and have it professionally installed for years of trouble free service.
Florida Stairlifts your "Stairlift Experts" 1 (888) 605 0174