We visit many people every week looking to purchase a chairlift but a recent visit to one lady stands out from the rest.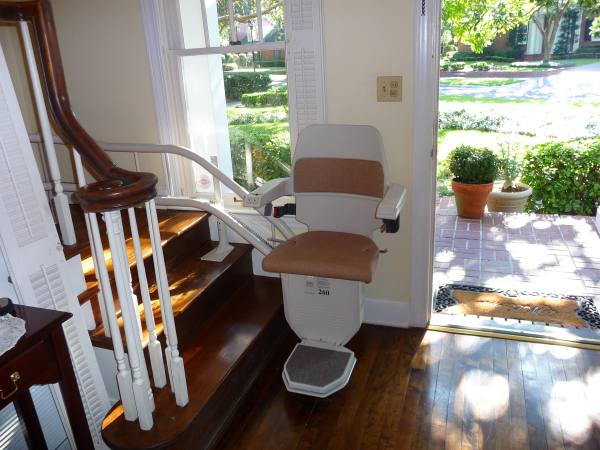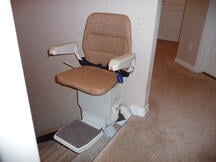 Dorris welcomed me into her immaculate home and presented her mobility problem. A 16 foot staircase was the barrier that separated her bedroom and bathroom from her comfortable living room where in the past she enjoyed her grand children and family visits. Dorris was not disabled as such but simply found the stairs took longer and longer to negotiate as the day progressed. As with many people in Dorris's situation the main concern was the potential to fall on the stairs.
After assessing her staircase and her particular physical needs we were able to present three potential stair lift brands (Sterling, Stannah and MediTek) that could be customized for a perfect solution. Only an independent stairlift distributer can do this.
Dorris considered the options briefly and proceeded to ask a series of very relevant questions - (we love informed customers that have done their chairlift research).
Unfortunately Dorris had stumbled upon a shamefully biased, totally inaccurate Internet stairlift comparison chart and used this to base her stairlift selection on. Dorris was convinced that the misinformation was true as it was in writing. Fortunately I was able to put the Internet lies to bed with a physical demonstration in metal - (using our demonstration chairlift that we can bring into the home).
Buyers need to use extreme caution when selecting chairlifts and carefully consider the information source. Warranty claims are brashly displayed buy are almost always preceeded by "limited" and thats the key word.
Many of the on line only stairlift dealers are tied into one lift manufacturer and will happily drop ship their cheaply made offerings to a customer for self installation.
Installation is usually attempted by a family member or a handy man is contracted to muddle their way through the process with disappointing results.
Ask your self the folowing questions.
What happens if I have a poor installation and the chairlift does not perform well?
What if the chair lift needs servicing like any mechanical device who will come to my home and do the work?
Who are you going to call for any alterations to be made if your situation changes
Will you be able to get satisfaction from the guy on the Internet?
How do I enforce my warranty rights?
Chairlifts need to be professionally installed for safety, reliability and peace of mind for the years to come. Period!
With a stairlift life in excess of typically ten years, use someone you feel comfortable talking with and who is physically able to deal with any issues you may encounter preferably someone in the same state!
Let your stairlift expert and independent chairlift distributor handle any issues and liaise with your stairlift manufacturer from start to finish.
In Summary:
Choose an independent trusted local dealer specializing in stairlifts offering multiple solutions

Ask to see or better still try your stair lift before you buy

Check out that limited warranty claims and find out exactly what it covers

Get references and do your research on the company you are choosing to install your stairlift.

Check the BBB, Angie's List and Google "stairlift complaints" to see who you are better off working with.
We look forward to working with you soon. Call us directly at
1 (888) 605 0174 for your stairlift installation.